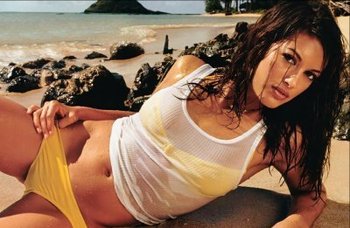 Extreme sports like surfing, snowboarding and BMX have always seemed to have a higher percentage of sexy ladies than other sports. No one's really sure why, but any time you met a skater chick, odds were good, she was sexy.
Now that they have become a part of the mainstream, more and more people are trying out these sports each year. What does that mean for you? More sexy ladies, of course!
Which brings us to this list. We're bringing you the 25 hottest extreme sports athletes. These ladies are some of the best at what they do in the world, and are capable of looking downright smoldering in a calendar, so strap on your helmet and let's take a look!
This scantily-clad snow bunny is the reigning Olympic Ski-Cross Gold medalist, and is a freestyle skiier from Canada. She's taken home silver in Ski-Cross at the X-Games, and, as you can see, occasionally melts all the snow around her with her hotness.
Kimiko here is another Canadian snowboarder, who was made famous by MTV's
Summer Sessions
. In spite of being on MTV, she's still on this list, thanks to her skills on a board, and in front of a camera.
This lovely surfer chick has taken home second place in the World Championship Tour, and has bagged 5 WCT victories total.
She was also one of the select elite female surfers selected to go on an all-girl boat trip to hit the waves in Indonesia.
She's also a breast cancer spokeswoman. Yep, sexy and passionate. I like that.
Yes, I know; Lokelani's not a professional extreme sportswoman. She runs triathalons.
But, she's also a fantastic surfer, which qualifies her for the list.
And really, are you going to argue that she doesn't belong?
Blanchard is yet another surfer on the list.
Something about surfing produces sexy ladies at a higher rate than almost any other sport on Earth.
How many of you just went to price surfboards on Google?
Hosseini is a surfer and skateboarder, best known for her work on the waves.
See what I mean about surfers? They're all sexy. She's trying to get onto the WCT, and I for one have a hunch we're going to be seeing a
lot
more of her in the next few years.
See? Another surfer! Ashley is one of the more famous names on this list, thanks to her regular appearances on MTV. But don't be fooled by that; she's a legit surfer, who can shred with the best of them.
Petroni's not just a good surfer (she's a competitor on the WCT at the young age of 22), she's also a model, who has done work for Versace and New York designer Rachel Roy.
That's it, I'm taking up surfing.
How hardcore is Van Vugt? She's in the record books forever as the first woman ever to land a backflip on a full sized motorcycle.
Plus, she's got guns that could crush your head. Which is hot.
There's something about a sexy snowboarder with a silver medal that just gets any red-blooded American man's blood pumping.
Case in point: Bleiler. So she fell on both of her 2010 Olympic runs; that just means she could use someone to comfort her.
This petite bombshell just missed the cut for the American Olympic Snowboarding team. When she makes it next time, you can bet they'll be front-runners for sexiest team in Olympic history.
And they'll probably win going away.
Friday's a wakeboarder who went pro at 14. That was 10 years ago, and this is her now.
This freestyle skiier is one of the worlds best (and sexiest) at her craft.
And, before you ask, I don't know if she'd give you lessons.I'd say she's turned into quite the bombshell, wouldn't you?
Chanelle might have a slightly strange name, but don't let that fool you: this down-to-Earth hottie's just as comfortable on a surfboard or snowboard as she is on the cover of a magazine.
Everything I've read says she's one of the easiest people to talk to that you'll ever meet. What more could you want?
This Aussie snowboarder snagged gold at the 2010 Olympics in the halfpipe, beating the American dream team of Hannah Teter and Gretchen Bleiler in the process.
Plus, as you can see, she's pretty darned hot, to boot.
Talk about versatility: on top of being one of the best female motocross riders around, Ulrich's also getting a business degree, has a pet pitbull, and likes to ski race and dance ballet in her spare time.
She's also broken her wrist and back racing bikes.
And looks awfully good in that bikini, even if the boots are a bit much.
Here's the thing about Roberta. She's a skydiver who just loves to get naked, and jump out of planes.
Yes, you read that correctly. Suddenly, the idea of jumping out of a plane sounds a lot more appealing, doesn't it?
This was a no-brainer. No one came close to Ms. Jones on the sexy list, not even the naked skydiver. In Xanaland we love our extreme sports girls, more to come!